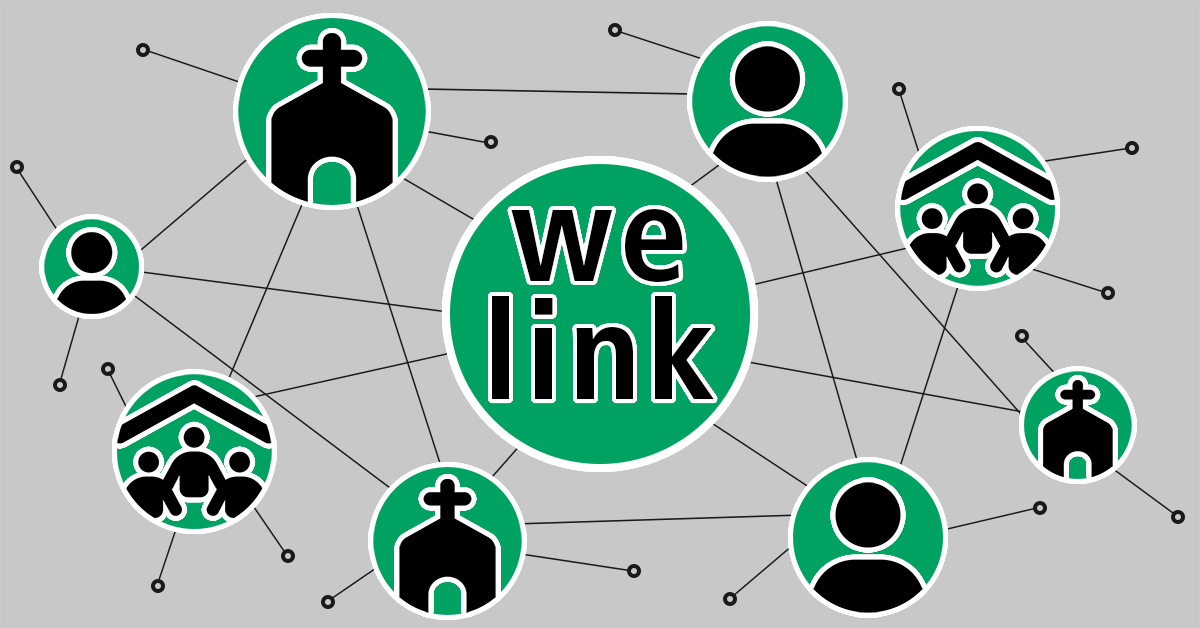 weLink is a monthly email newsletter that helps in connecting congregations of Indiana Michigan Mennonite Conference.
Subscribe
Annual Sessions 2022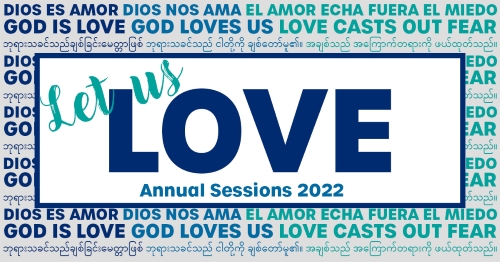 Annual Sessions 2022 will be held in Elkhart on June 17-18, with worship resources* provided for Sunday, June 19 to connect congregations with the ministry of conference. Register Today.
*The worship resources for June 19 will include Opening Words/Call to Worship, Song Suggestions, Children's Time Suggestions, a Video-Recorded Sermon, and a Sending/Benediction. These can be used in their entirety or however is best for your congregation in connecting with Annual Sessions and IMMC. Our goal is to provide these to congregations by mid-May.
From the Missional Leadership Team
The changing of seasons is a reminder that we live in a dynamic world. There is nothing static as we go from one season to another. Spring is a time for new life and new beginnings. Our conference doesn't follow the seasonal cycles; however, we are in the final cycle of the organizational year. At Annual Conference we will usher in the season for new life and new beginnings. Teams will be saying goodbye to their members whose terms have ended and welcoming new members who have said yes to becoming involved.
New persons bring new ideas and new opportunities to enrich and enlighten our organization. I have learned to embrace change as a way that the Holy Spirit is moving among us. My first 3-year term with the Missional Leadership Team ends in June. I have been blessed to see the Spirit at work in the growth and embracing of IMMC's vision. The ongoing efforts to become more interculturally competent, as individuals, will have a positive impact on our organizational goal of growing our intercultural witness.
Today's reading of the Rejoice! daily devotional, Acts 11:1-18, demonstrated how the early church dealt with change. Peter's association with Gentiles was outside the traditional norms. The Jerusalem church was convinced by Peter's words, and the Holy Spirit, that the Gentiles were part of God's community too.
Just as the fledgling community of believers was energized by accepting those who were not previously included, so the Holy Spirit can breath new life into IMMC as we open ourselves to new ways of thinking and being.
By Duane Yoder, MLT Treasurer.
Celebrating
Grant Miller will be ordained on May 22 at Kalamazoo Mennonite Fellowship, in their 5:30 pm worship service. Joanne Gallardo will officiate.
Bethel Mennonite Church, Ashely, MI had their final worship service on Easter Sunday, April 17. A decision to close at this time came primarily because of Pastor Joe Pendleton's health issues. While we grieve the losses with this closing, we celebrate the stories of God's faithfulness to Bethel congregation and of their faithful witness of God's presence throughout more than a century of fellowship together. We also celebrate that another group began meeting in their building on April 24 and that they will be an ongoing witness of God's redeeming love in the Ashley community.
The Intercultural Working Group for IMMC is in its final stages of formation. If you are a person from a minoritized community that has a passion for seeing racial equity and inclusion in our conference, please reach out to Joanne Gallardo.
On May 17, Michelle Cabanaw will begin orientation to her new position with our conference, serving as bookkeeper and administrative assistant.
Connecting
Joanne led worship for the Transition to Leadership group from AMBS at Camp Friedenswald April 21-23.
Joanne will spend May 10-13 at Princeton Theological Seminary doing continuing ed work through the grant-funded Iron Sharpening Iron program.
Mennonite chaplains from this region gathered for their quarterly meeting hosted by Mennonite Health Services on April 19. Meeting via zoom, since the start of Covid, has provided a meaningful connection for chaplains beyond the Goshen area. Sharon has been joining these meetings.
Sharon joined the annual SENT conference via zoom on April 23. Hosted by Mennonite Mission Network, this year's theme was "New Expressions of Church."
Sharon will meet with several congregational leaders in Michigan May 14-15. A visit is planned in Detroit on Saturday 14th with church planters Lucy and Simon Muange and Bonita Childs, pastor at Peace Community Church. On Sunday morning the 15th Sharon will officiate at the installation service of Michelle Merchant at Maple River Mennonite in Conway, MI. Congregational leaders from northern Michigan churches will gather in St. Ignace in the afternoon to meet Michelle and to deepen connections with one another.
Credentialing and Leadership Development
Esther Lanting will conclude nearly 25 years of ministry at Hudson Lake Mennonite Church on May 31. Sharon will preach at Hudson Lake on June 12 and congregational coach Ruben Chupp will preach on June 19 as they wait for their transitional pastor to begin ministry.
Jennifer Helmuth Shenk concluded 4 years of ministry at Kern Road Mennonite Church on April 24. Sharon joined the congregation for her farewell sharing that morning.
Stephanie Wieand will be candidating for pastoral ministry at Berkey Avenue on May 14-15. The search committee continues to process with a second person who would share their full-time opening.
LET hosted Marty Lehman on May 11th for their bi-yearly congregational coach training regarding working with church boards.
Financial Update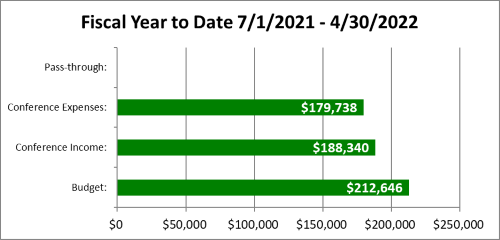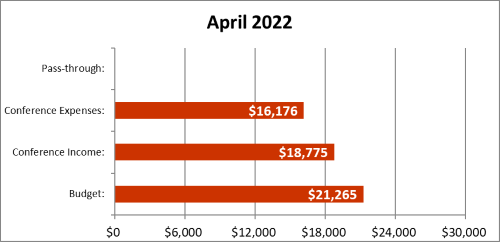 Data for the "Pass-Through" figure was not available for this report but will be reflected in subsequent reports.
From Amigo Centre
Amigo Park – opens May 20, 2022. Think camping… call now to reserve your space for this summer! Phone: 269-651-2734 – leave a message for Caz and Sheila.
Summer Camp Dates are posted on our web site. Registration is now open. We are still looking for camp staff – if you know of any young adult 16 years of age or older, that would be interested in working at Amigo this summer, please let us know!
Save the Date: Amigo Bike Michiana is scheduled for September 16-18. Additional details coming soon.
Amigo Scrapbooking, Crafting and Sewing Retreats. Online registration is now open for the dates listed below. See the web for additional details.

September 22-25
December 1-5
Five Things Friday Roundup
Worship Leaders' Workshop
Voices Together Worship Leaders' Workshop | May 14, 9 a.m.-noon (on Zoom) | sponsored by Benton Mennonite Church
Anneli Loepp Thiessen and Katie Graber will provide background on worship resources in Voices Together, and the Voices Together Worship Leaders' ed., highlighting uses in worship as well as the styles, cultures, and eras they represent. They will discuss tools for understanding your community's worship culture in order to make intentional, theologically grounded, and spiritually inspired choices about worship practices that respond to your local contexts and dismantle oppression in your communities. No cost required. For more information, and to register, go to www.bentonchurch.org/voices-together-worship-workshop.
Employment Opportunities
Mennonite Mission Network has several employment opportunities listed on their employment page.
Mennonite Education Agency lists openings throughout Mennonite-affiliated schools on their employment page.
Explore pastoral opportunities in Indiana-Michigan Mennonite Conference and beyond on MC USA's  Pastoral Openings list.
 If you would like to list an opportunity here, please contact the Conference Office.