weLink connects Indiana-Michigan Mennonite Conference congregations to each other, to partner organizations and agencies, and to our wider Mennonite Church USA family. It is published during the second week of each month.
A Word from the Missional Leadership Team
As I speak to people from congregations of IMMC I hear that most are meeting in-person again and others hope to in the coming months. Nothing about the pandemic has affected us more than the loss of in-person relationships. While a large measure of caution is needed in coming back together, community building measures are critical as well.
We will do well to focus on two things: 1) creating connections, and 2) cultivating empathy.
Social distancing is one thing, but when all our relationships went virtual, we changed. We were no longer able to be truly present with others outside of prearranged and structured methods. The influence of social media exploded in our lives, yet its ability to be socially beneficial is an ironic tragedy. We have always known disagreement. Now with social media, we can block people with whom we disagree and follow ideologies we like. This is feeding division in our communities. The people of our churches have been relationally malnourished.
Now is the time for us to intentionally provide opportunities for people to connect and reconnect. Some connections can happen just in gathering for a worship service. However, providing space for people to be in conversation with each other will enable connection, a sense of belonging, and growth in relationships.
In-person conversations will cultivate empathy among people. Providing space and opportunity for people to talk across lines of disagreement can foster a climate of understanding where listening is favored over speaking.
The MLT has managed with Zoom meetings, but we too plan to be back in-person at our next meeting. I like the other people on the MLT, but our Zoom meetings have not helped us grow deeper as a community. I am ready to spend time with these people in-person.
I am also looking forward to getting to know the newest member of the MLT, Shawn Lange. I asked him to introduce himself. Shawn replied, "I am motivated and driven by God's presence. The Lord saved me 22 years ago and I'm still on fire for reaching kingdom people. I look forward to this missional journey." Wow. I really look forward to going deeper!
May God's Spirit lead us into deeper community – our congregations, our teams, and our conference.  Amen.
Steve Slagel, Moderator Elect
---
Celebrating
We celebrate that Joanne Gallardo Qualified Administrator for the Intercultural Development Inventory (IDI). Conference staff and Missional Leadership Team members will take the IDI and will meet with Joanne in the coming months to develop a plan for growth in intercultural competence. Other conference leadership teams and pastors will be invited to participate in the IDI in future.
Monica Miller's credentialing and installation service at First Mennonite, Indianapolis, officiated by Sharon Yoder on November 7.
Several new conversations with persons interested in planting churches in IN-MI conference and the opportunity to partner with Mennonite Mission Network as these leaders participate in the SENT church planting discipleship cohort.
As we look ahead to celebrating Thanksgiving, we also are aware of the danger of the single story that our history has told with this holiday. In an effort to encourage individuals and congregations to consider the stories and experiences of indigenous persons, we recommend exploring this list of books by indigenous authors.
---
Connecting
Joanne, Sharon, and Conference moderator Brenda Meyer attended virtual sessions of Constituency Leadership Council (CLC) along with other MC USA conference leaders on October 15 & 16. Joanne shared in Friday's worship service reflecting on transformation. Her blog post can be found here.
Joanne spent October 26-29 at Princeton Theological Seminary completing the second phase of their executive leadership program for women. The focus for this event was financial planning and stewardship.
Clayton, Joanne, and Sharon are blessed by opportunities to hear from you! Feel free to connect with any of us anytime. While we're happy to refer you to the person who will respond to your need, here's a note about who generally carries what:

Clayton: communication and technology coordinator; event planning; administrative support for IMMC leadership teams and staff. Recorder for Missional Leadership Team.
Joanne: intercultural competence initiative; congregational coach relationships; ongoing congregational life matters; writing and speaking. Collaborates with Leadership Enhancement, Gifts Development, and Missional Leadership Teams.
Sharon: leadership transitions; pastoral searches; credentialing; pastor-congregation relationships; financial management. Collaborates with Ministry Credentialing, Stewardship, and Missional Leadership Teams.
---
Credentialing and Leadership Development
Pastors Gathering at Amigo Centre November 8-10 provided opportunity for retreat, fellowship, and resourcing. The gathering included worship, led by conference staff, and reflective conversations, led by the Leadership Enhancement Team. Resourcing times included a webinar provided by WellSpan EAP on compassion fatigue and self-care and Becky Helmuth led a workshop on navigating conflict during Covid.
Search Guides, a face for conference during pastoral transitions, offer presence and wisdom as they meet regularly with congregational search committees. A refresher meeting for our volunteer guides on November 19 will be led by Malinda Berry, Anabaptist Mennonite Biblical Seminary professor, and Sharon Yoder.

Leadership Enhancement team recently held a Congregational Coach seminar led by David Boshart, president of AMBS.
---
La Posada Seeks Office Items
La Posada, an organization for immigration aid and justice connected to Piedre Viva Mennonite Church, is looking for office items to furnish their new space. They are looking for a desk, bookshelf, and other office items. Please contact Naun Cerrato if you or your congregation can help!
---
Prairie Street Seeks Bilingual Church Administrator
The Church Administrator at Prairie Street Mennonite Church carries responsibilities in the areas of finance, office administration, and building management. An ideal candidate will have demonstrated a Christian faith commitment, be completely bilingual in Spanish and English, have experience using QuickBooks, and be proficient with Microsoft Office and Google tools.
This is a part-time position at 16-hours per week.
To apply, send a cover letter and resume or list of experience to Pastor Quinn Brenneke at qbrenneke@gmail.com. All applications will be processed on a rolling basis through November 30, 2021.
---
Financial Report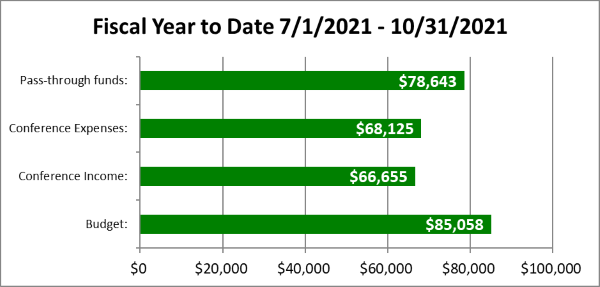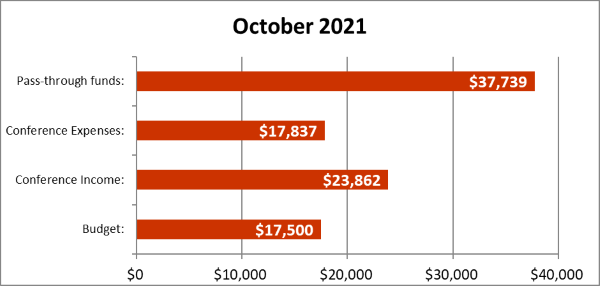 ---
From Amigo Centre
Save the Date: Amigo Women and Girls Retreat is scheduled for March 18-20, 2021. Speaker is Leandrea Lange from New Foundation United in Christ Fellowship, Elkhart, Indiana. Theme:  God Brings Peace in the Storm.  The worship team from Yellow Creek Mennonite Church will be leading worship during this retreat. Watch for additional details coming to your congregation soon.
Save the Date: Winter Youth Retreats are being planned for January and February. Registration will be open soon. For questions contact info@amigocentre.org.

Sr High – January 14-16 – Speaker: Eric Frey Martin
Jr High – February 18-20 – Speaker: Adam Fellers

Storm damage update: due to a powerful storm that swept through our area on August 12, we have sustained damage to 17 buildings and our trails are currently not safe. We are working to open up a trail for guests as soon as possible. Meanwhile our main facilities – Retreat Center, West Shore Lodge, Activity Center and Dining Hall were unharmed and still very usable. Going forward we will appreciate volunteers to help with the continued clean up that will be necessary over the coming months. If you or your group would like to assist, please contact Amigo Center – at 269-651-2811 or email Cheryl@amigocentre.org. Cheryl Mast is coordinating our volunteer cleanup effort through this challenging time.  Thank you for your continued support through this time of Covid and our current storm damage cleanup. For our most updated Covid Regulations, please check online on our homepage at amigocentre.org. Thank you!
---
From Bethany Christian Schools
Bethany Christian Schools Adds Two New Grades
Bethany Christian Schools in Goshen, Indiana, announces the addition of 1st and 2nd grades for fall 2022. These additions continue to move the school closer to it's goal of offering a complete Bethany education– from kindergarten through high school graduation.
While adding classes for younger children, Bethany will increase its emphasis on outdoor, artistic and hands-on educational experiences. Screen time and test prep can get in the way of these opportunities, so they are kept to a minimum.
"We are proud to have a long history providing excellent education to youth in Elkhart County" said Head of School Tim Lehman. "We are excited that this strong foundation can now start in first grade. "
This year the school added a third grade for the first time, hiring a teacher with an impressive background in Waldorf education, Karin Fast. Fast brings valuable artistic and active learning expertise from her 7 years of experience as a Waldorf teacher of elementary grades. 
"We hire teachers whose teaching philosophies reflect Bethany's values, who partner with parents to help students thrive in the educational setting and create learning environments in which students are excited to attend school each day"  said Lehman. "We believe that students flourish when teachers have the freedom to plan lessons creatively and are given time to address students' academic and social needs."
This year, Fast joined veteran Bethany staff members such as elementary 5th grade teacher Linda Hochstetler and 4th grade teacher Adam Friesen. The two teachers have built a reputation among young families over the past decade, often causing their grades to be fully enrolled.  
"It's never fun to turn away families due to lack of space in a grade," said Admissions Director Vanessa Adcock.  "I'm hopeful that adding younger grades will mean families find us even sooner, and we can eventually provide two sections of our elementary grades. I am excited to welcome new families for tours and help them learn how to reserve a seat in grades one to five!"                               
Bethany offers several opportunities for families and students to visit their campus. To view options please visit bethanycs.net/visitbcs/.
Bethany has always prioritized learning that transcends testable measures, and a newly updated vision statement reflects this emphasis. Bethany's vision calls for developing faith through Christian discipleship, growing learning through holistic education and practicing community by building relationships.
To learn more about Bethany, please visit bethanycs.net. 
---