weLink connects Indiana-Michigan Mennonite Conference congregations to each other, to partner organizations and agencies, and to our wider Mennonite Church USA family. It is published on the 15th of each month.
Mennonite Men Offering Oregon Eco-Excursion
A week-long excursion to explore outdoor wild spaces, learn about forests in ecosystems of God's creation, and help with newly planted trees along the Zena Forest.
In June, 2022, Mennonite Men will host an eight-day eco-excursion in Oregon's Willamette Valley. The June 11- 19 trip provides an opportunity for a different kind of vacation that will give participants an opportunity to explore outdoor wild spaces and learn about forests and ecosystems in God's creation.
The excursion will include hiking in temperate rainforests, kayaking on the Salmon River Estuary, working on a Zena Forest tree-planting project, whale-watching along Oregon's coast, and staying in an old-growth forest at Drift Creek Camp. This venture will be an experience for men to be in the wild together and work with a tree project supported by Mennonite Men to convert pasture to forestland.
---
Save the Date: Spring Summit 2022
We are excited to announce that there will be two Spring Summits (formerly regional meetings) offered in 2022, one in-person and one via zoom. One difference from years past is that delegates can sign up for either option based on how they would prefer to engage–registation is not limited to persons of particular regions. Delegates will have the option to choose one of the following:
March 19 — in-person (weather and Covid precaution permitting) will gather at Fairhaven Mennonite Church in Fort Wayne, IN.
March 26 — online gathering via Zoom.
More information and registration will be made available in the coming months.
---
A Word from the Missional Leadership Team
"So much change in so little time. So many opportunities to lose track of so many important details. But so many opportunities for the Spirit to breathe anew. This last point is one reason why I relish change…through those [times] I have witnessed the Spirit's leading when we yield ourselves to the Spirit."
These are the words I wrote in last May's WeLink article reflecting on the many changes that had occurred, and were about to occur, within our conference given staff transitions, conference team member changes, living into our Renewing a Vision focus, etc.
Six weeks ago the MLT met at East Goshen Mennonite Church…our first "normal" (non-Zoom, in-person, full-day) meeting since the summer. I sat around the distantly-spaced tables in gratitude soaking in the Spirit's presence throughout our time together. There were new faces around our circle…new MLT members, new staff…along with new ideas, new insights, new energy, and new passion. 
"So much change in so little time…so many opportunities for the Spirit to breathe anew."
Several days later Joanne Gallardo, one of our conference ministers, emailed me about something, and as a sidenote expressed, "I felt MLT went very well on Saturday!"
To which I replied, "Yes…I thought Saturday was fabulous!!! My heart and soul came away filled with much gratitude for where IMMC leadership (i.e. staff, MLT) is now and positioned for the future (i.e. 'not there yet, but well on the way!'). 🙂 "
I am grateful. 
Amen.
— Bob Yoder, Post-Moderator
---
Celebrating
Rolando Sosa's installation service at Piedra Viva Mennonite Church on December 19, officiated by Joanne Gallardo. 

 

Mariah Martin's ordination at Bonneyville Mennonite Church on January 2, officiated by Sharon Yoder. 

 

Steady financial support for the vision and mission of Indiana-Michigan Mennonite Conference. 

 
---
Connecting
Joanne preached at College Mennonite on December 5th and at First Mennonite (Indianapolis) on January 2nd. 
Sharon and Joanne joined other MCUSA conference ministers meeting via zoom on January 11. This monthly connection creates space for sharing resources and support for one another in our work.  
Sharon joined the quarterly gathering of transitional and interim pastors via zoom on December 14.  
Sharon joined the quarterly gathering of Midwest Chaplains Network, hosted by Mennonite Health Services via zoom on January 11.  
Joanne continues to meet monthly with pastor cluster groups 
Joanne met with MennoMedia to discuss IMMC's support of their project, "Anabaptism at 500" 
---
Credentialing and Leadership Development
Leadership Enhancement Team and Ministry Credentialing Team will meet January 26 to discuss areas of collaboration in their work with leadership development. 

 

Ministry Credentialing Team had a meaningful credentialing interview with Pastor Rolando Sosa on December 10, to prepare for his installation as pastoral team member at Piedra Viva Mennonite. 

 

Sharon had contact with 11 pastoral applicants in the past month about various interim and settled pastoral openings. Currently there are three active searches in process.

As part of our 'Growing our Intercultural Competance' goals, Joanne has begun working with conference staff and the Missional Leadership Team (MLT) on the Intercultural Development Inventory (IDI).

Neil Amstutz has announced his resignation from Waterford Mennonite Church after 17 years of ministry effective February 2, 2022.
---
Financial Update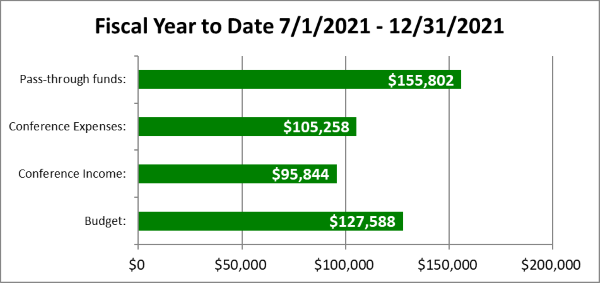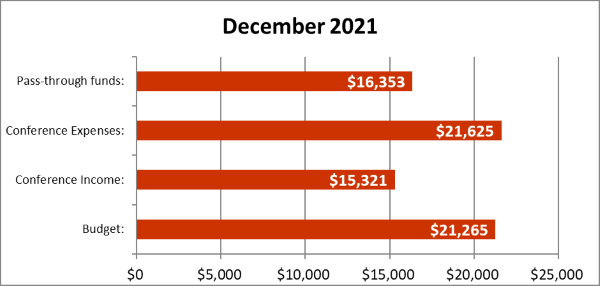 * Please note that these totals do not include checks that were mailed between Christmas and New Years. These funds will be reflected in January 2022 income figures.
---
Pandemic Stress & the Power of Resilience
The current pandemic is undermining the mental and emotional wellbeing of many individuals, families, organizations, and churches. Combined with the rising tide of anger and division in society, debilitating levels of stress and anxiety are being reported. We need proven strategies and effective tools to successfully manage life and serve others. Join us as we bring the best of scientific research and biblical concepts together to develop a lifestyle of resilience and peace.
Mennonite Health Services (MHS) will host an online workshop Feb 8 from 2:00-3:00pm, Pandemic Stress and the Power of Resilience. If you cannot attend at that time, have no fear, if you register MHS will send you a link to watch at your convenience. I encourage you to also share this with your team mates as you see fit. MHS webinars are offered as a service to our broader community and there is no charge to attend.
---
5 Things Friday Roundup
---