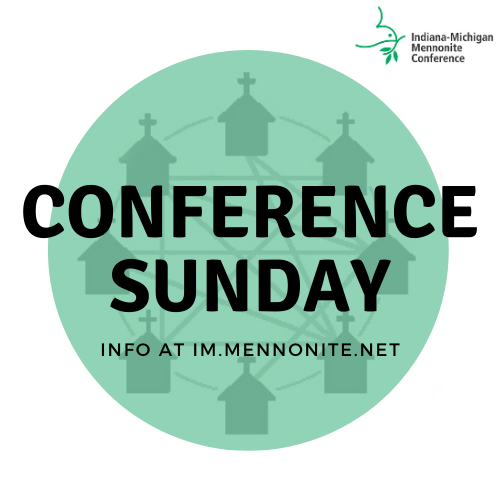 Indiana-Michigan Mennonite Conference warmly invites your congregation to participate in Indiana-Michigan Mennonite Conference Sunday on February 14, 2020.
WHAT IS THE PURPOSE OF CONFERENCE SUNDAY?
Engage the story of Indiana-Michigan Mennonite Conference (IMMC), a story that has contributed to our identity as fellowshipping congregations
Celebrate and give thanks for God's faithfulness to our community of congregations
Increase awareness of and appreciation for the congregations–people, pastors, locations–that make up IMMC
Deepen a sense of connection to other congregations in one's own region
Broaden our sense of identity as a Mennonite follower of Jesus beyond the local congregation
One of the core understandings of the church for us as Mennonites is that the church is a community. We commit ourselves to following Christ, and we commit ourselves to each other in the community of faith. We invite you to help your congregation live into its commitment to the larger community of faith and to begin that by getting better acquainted.
Worship Resources
Below are a few resources to aid in your worship planning. Feel free to use as many or as few as you see fit.
Youth and Family Resources
This resource was created Sharon Yoder. It is a series of eight lessons to be used in your homes or in children's worship. It is best suited for kids between preschool and 2nd grade, but is easily adaptable for older kids. 
Feel free to adapt these lessons to suit the needs of your congregation. Feel free to contact Sharon Yoder or the conference office if you need an workable document.
HANDOUTS FOR CHILDREN'S WORSHIP
"How Great is Our God/ Cuan Grande es Dios"
Performed by Saul Estrada of Piedra Viva Mennonite Church, Elkhart, IN.
"Praise the One Who Breaks the Darkness"
Performed by the worship team at Walnut Hill Mennonite Church, Goshen, IN.
"Somos el cuerpo de Cristo"
Performed by the worship team at Walnut Hill Mennonite Church, Goshen, IN.
These are a few of the resources from last year's Conference Sunday. We hope that you find these helpful as you plan your Conference Sunday worship services. A complete list of last year's resources can be found here: 2020 Conference Sunday.
Contains worship resources including possible worship outline and song ideas.
PRINT RESOURCES/ HANDOUTS
Worship Resources
Discussion on "What is an Anabaptist Christian?"
Indiana-Michigan Mennonite Conference Handouts