Welcoming the Stranger
April 7, 2017
By Laurie Oswald Robinson, editor
Wh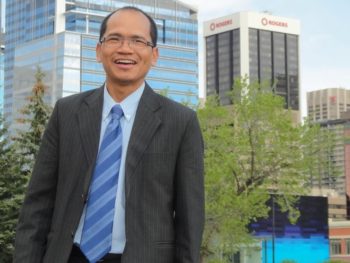 en Jeremiah Chuiha met Max Ediger in Thailand in 1999, they had no idea that connection would blossom 15 years later within Indiana-Michigan Mennonite Conference. After immigrating in 2010 from India to a refugee resettlement program in Canada, Chuiha became pastor of Emmanuel Living Christian Church in Indianapolis, a congregation that consists of Chin refugees from the Dai tribe. During this time of transition, he sought to reconnect with Mennonites who had showed him a way of peace in a violent world. That search has led him and Emmanuel to seek membership with IN-MI this summer.
The first step of that journey began in a Mennonite Central Committee program, in which he and Ediger served people facing human rights abuses. During that time, the Mennonites shaped his views on Christian discipleship.
Chuiha is from a Chin people group in Burma, a country rife with civil war and religious persecution. He wanted to walk a journey of peace, and Mennonites were good models.
"While with the Mennonites, I learned how to interpret the Bible and scripture from the standpoint of living in peaceful community," he said in a recent interview. "I believe that is how Jesus taught his disciples to live on this Earth. I had some background for this in the village where I grew up in Burma. Neighbors invited people into their homes for dinner or lunch, and we helped each other and showed each other love and welcome."
As a result of the Mennonites' influence, he sensed a call to enter theological education in India, which he pursued before coming to Canada. Chuiha found this loving welcome with the Mennonites in America, where Mennonite friends in Oklahoma put him in touch with Andre Gingerich Stoner, a Mennonite Church USA staff member. Stoner led Chuiha to Brian Bither, a pastor at Shalom Mennonite Church in Indianapolis. Bither has been instrumental in Chuiha's journey.
"He is a Canadian citizen and was hired by a church in Indianapolis on a three-year visa that was about to expire," Bither said. "We hope to extend Jeremiah's legal status in the United States first by enrolling him in Anabaptist Mennonite Biblical Seminary in Elkhart, Ind. It has been a long process, but in the meantime, we have become trusted friends." This friendship is expanding as Emmanuel seeks IN-MI membership. And because of the cross-cultural pollination, both groups are enriched and strengthened in giving and receiving gifts from the other.
"Though our group is relatively new to the Mennonite world, we are learning the importance of seeking the wisdom of God from fellow Mennonite congregations," Chuiha said. "We all need each other to help carry the message of Jesus to the world and to society."
Bither said it has been really refreshing to have another perspective, and the Chin congregation helps Shalom to think more globally. "When we in America talk about ethnicity, we tend to talk in terms of black, white and Hispanic and perhaps some others on the fringes. But Chuiha and his people is a reminder that we are really a part of a much more diverse global community. It is good to be stretched in everything from language and customs and how we do business, as well as how we plan and structure church."
The largest population of Burmese in the United States resides in Indianapolis. That's where Emmanuel is the second Chin congregation to express interest in joining IN-MI. Last summer, their congregation was introduced to conference on the same weekend that the Mara Christian Church was accepted as a member congregation.
"The most important gift we can bring to the Mennonite church here is our witness that a people can survive the oppression and persecution of seven decades, and can continue to witness to the hope of Jesus," Chuiha said.