Sabbath living moves Fellowship of Hope from doing to being
December 22, 2016
By Laurie Oswald Robinson for Indiana-Michigan Mennonite Conference
Small congregations are often swamped with more ministry tasks than there are hands to do them. Though small, the 25-member Fellowship of Hope (FOH) in Elkhart, Ind., for an entire year explored what it means to stop and to open one's hands to receive the "enough-ness" of God.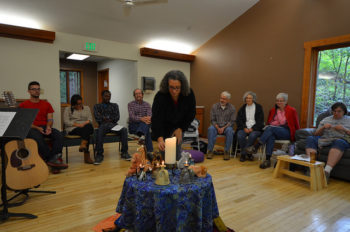 For 12 months through October 2016, FOH explored the theme of Sabbath. It focused its worship and congregational conversations on disengaging from a frenzied, materialistic culture to reshape expectations of human doing into attitudes of human being.
"We gave ourselves and each other the permission to stop," said Suella Gerber, FOH pastor. "We live in a context obsessed with 24/7 of working, doing and consuming. We reflected on what it means to enter into God's time on Sabbath as well as how that discipline shapes the priorities of the rest of the week.
"I think we gained more facility in letting go of some cultural expectations. We are a small congregation, and there are many good things that need doing. In this context, we explored what it means to use language that reflects having enough time, rather than using language that conveys the scarcity of time."
To symbolize the Sabbath focus, the congregation lit a Sabbath lamp during each worship service. FOH also encouraged each family to use an oil lamp at home. One of those families is Gretchen Kingsley, member of FOH worship committee, and her husband, Keith, retired missionaries.
Though they did not light their lamp every day, they did it enough to gain a deeper sense of what it means to challenge the constant doing-ness of the culture, she said.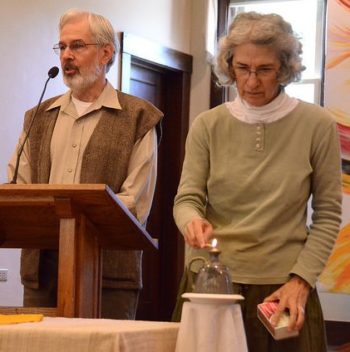 "We were encouraged to let our lamps be a reminder that God is enough, and that we don't need to be anxious," Gretchen said. "God gives us spaces to rest and calls us trust in him. Just as we entrust our lives to God while we sleep, the Sabbath light is our reminder that God is in charge."
Resources that helped FOH focus on Sabbath included an exploration of the role of Sabbath in scripture, as well as materials created by theologian Ched Myers on Sabbath economics, Gerber said. Helpful to her personally was the fact that her three-month sabbatical fell in the middle of the year's focus.
"In keeping with the spirit of the year, they did not send me with any kind of expectations but only their blessings and prayers," she said. "I did have my own expectations for the sabbatical, including seeing, imagining and discovering new seasons of congregational ministry.
"I learned more about emptying myself and being ready for what God has for me next," she said. "My reflections remind me of the story about Elijah and the widow, Zarephath. She didn't have enough oil and flour to feed herself and her son. And yet, through God's action, they had enough to eat every day.
"That exemplifies Sabbath living – to trust that God is enough, and will provide."