Providing shelter in the storm
September 15, 2016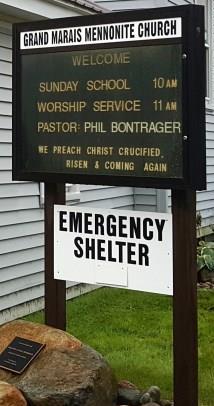 By Laurie Oswald Robinson for Indiana-Michigan Conference
Grand Marais (Mich.) Mennonite Church decided the most missional thing it could do where winters are cold and emergency resources are few was to provide physical – as well as spiritual – shelter.
So six years ago, the congregation of 20 members – located on the upper peninsula of Michigan and the southern shore of Lake Superior – built a new fellowship hall to double as a community emergency shelter.
The town of 250 that quadruples in size for tourist season at Pictured Rock National Lakeshore has not had to use the shelter yet. But the time is sure to come, said Nancy Hughes, a longtime church member, an emergency medical technician and coordinator for the Burt Township Medical Reserve Corp.
"We are so far away from anything here that we are considered the rural frontier," Hughes said. "If a disaster happens up here, like an ice storm that creates a power outage in the dead of winter, people would have nowhere to go. But now they do, and we have the congregation to thank for that."
In case of an emergency, the nearest hospital is 50 miles away, and there is no link to healthcare other than the local ambulance, and the shelter for 80 people, she said. In a disaster, volunteers in the Medical Reserve Corp would work with first responders – the local ambulance and fire department – until further assistance was possible within an hour and a half.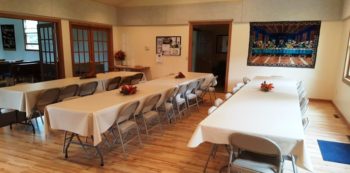 Those sheltered would receive heat, food, light first aid, and the attention of emergency medical technicians who could confer by phone with a doctor or nurse miles away.
The fellowship hall-emergency shelter also serves as a certified training center for Red Cross. It has a large generator, and it's all handicapped accessible. The local Community Urgency Response Team, CERT, works in conjunction with the Medical Reserve Corp, to prepare the community for disaster.
"The generator is really important, because in the middle of winter, it gets very cold, sometimes 10 below, and we can have up to 200 to 300 inches of snow," Hughes said. "The main road, Highway 77, is the only access to the town. And sometimes in winter, it is not accessible.
"
Even if that 'big' disaster doesn't happen, we feel so good that we are prepared. This is an important outreach for our community, and in that respect, we are servants to our neighbors."
Phil Bontrager, pastor of Grand Marais Mennonite, agrees. "Providing this shelter is how we express God's love to the community. … Jesus did say that when we see people in need, or who need a drink of water, or clothing, he expects us to provide that service. This is our way of following him."