Offering the bread of life: Hopewell congregation provides Bible study in bakery
February 2, 2017
By Laurie Oswald Robinson, editor
For years, Chris Birky has offered bread, pastries and other foods at Birky's Bakery and Coffee Shop in Kouts, Ind. Recently, he's added Bible study to the menu.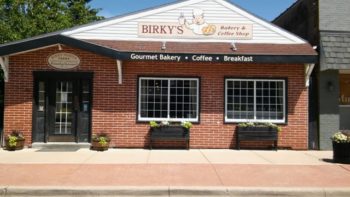 Birky, a local farmer and lifelong member of Hopewell Mennonite Church in Kouts, is leading a Sunday morning Bible study on discipleship in his bakery for people who are unchurched or who are not regular attenders.
When he asked the elders for the blessing to begin this ministry, no convincing was needed. They had been praying about new ways for Hopewell – to turn 100 in 2018– to be church in the community, said Joel Short, pastor of the 90-member congregation and a Bible study participant.
In the midst of their discernment, Birky appeared, and it was evident the Holy Spirit was moving. "We are beginning to understand that church will not continue to grow organically like it had several decades ago," Short said. "The church is not here in our building but out there, amongst the people. "It's not easy to make this shift. But with out-of-the-box ministries such as Chris', we are finding ways to reach out beyond the four walls of the church."
Several years before Birky — a lifelong Hopewell member and a farmer whose grandparents had helped birth the congregation — presented his idea, he had been undergoing personal spiritual renewal. "God showed me that discipleship is not a program put on by the church, or about being a big flashlight for God, shining on people's faults and sins," Birky said. "It's about becoming a light where we are – every day, everywhere, all the time. It's about being the gentle lantern of Christ, drawing others to his love and being real about receiving grace for our own struggles."
People are being drawn to this approach, as the "yeast" of the scriptures does its work. One of the attenders was not brought up in a Christian home, and became a Christian this past year. "It's refreshing to hear questions posed by someone who has little foundation and comes into the study unbiased," Short said.