Conferring Together
December 8, 2014
As area church and conference ministers, we gather each year for worship and work. For worship we used the Advent theme, "Oh. that you would reveal your mystery" from Leader magazine's Advent worship materials. Several conferences/area churches shared materials and practices they have initiated in their area to care for pastors.
It is a privilege to work alongside such committed people who love Jesus and the church. As in many areas of church, there are crucial conversations taking place. With the challenges and changes there is possibility some people will be gone when we meet in a year.
In recent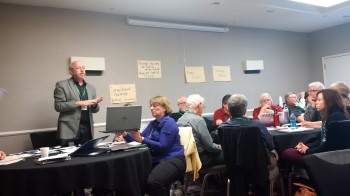 years Mennonite Church Canada and Mennonite Church USA have been using "six core competencies" to think about pastoral credentialing and ongoing growth. These six competencies are:
Biblical Story
Anabaptist/Mennonite story, theology, convictions
Christian Spirituality/Discipleship
Self-awareness and Emotional Health
Contextual Awareness and Missional Engagement
Leadership
In this picture, table groups take turns offering response to revisions meant to better reflect missional understandings in each area.